Archive
May 2021
---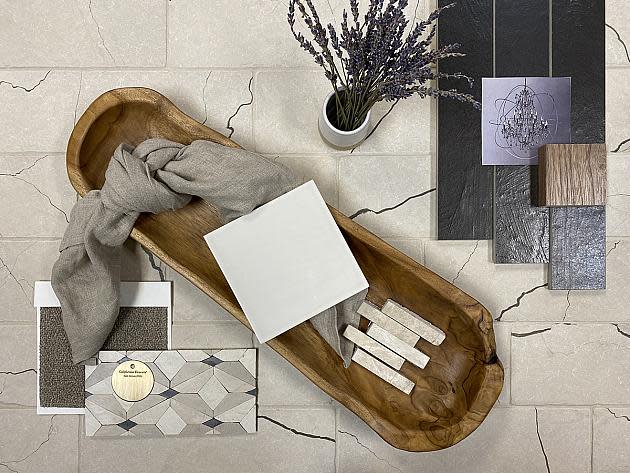 The Je ne sais Quoi of French Country Design
By AlysEdwards | 5/25/2021
The French country style may seem out of date... but think luxurious farmhouse; soft and rustic, elegant yet casual. You will be quickly swept away to the French countryside where lavender fills the air and things get better with time like fine wine. The use of natural materials, like stone, is a key element in this style. When choosing a floor, consider a stone with soft tumbled edges, like the Lynx from the Suave Due collection. The tumbled finish evokes a time worn look when compared to the more modern look of a stone with straight edges. When selecting the perfect white, opt for an earthier tone as opposed to a stark bright white. The off-white tone of Tongue in Chic's Don't Be A Shell Out makes it a great selection for a backsplash or shower walls. If you prefer the look of natural stone, our Rock Glamorous Aegean Cream is a creamy marble with light veins creating visual interest with a variation of hues. Be mindful of your selections. Choosing a porcelain like Manganese from the Abitare La Terra collection might not be a traditional choice, however the scraped plaster effect on the surface of the body shows details and craftsmanship not normally associated with this type of product. Select finishes, even if they are new, that look and feel like they have history. The hand cut mosaic, Louvre-ly Reflections, from the Mon Ami Paris collection make it a fitting selection for a powder room floor or feature wall. The imperfections of this artisanal product are what make it so ideal. Round out your space with aged metals, distressed woods, and cozy linens to keep your design steeped in tradition. Now it's time to inspire, create, and design something fabulous. Grab a glass, relax, and envision la belle vie!
read article
---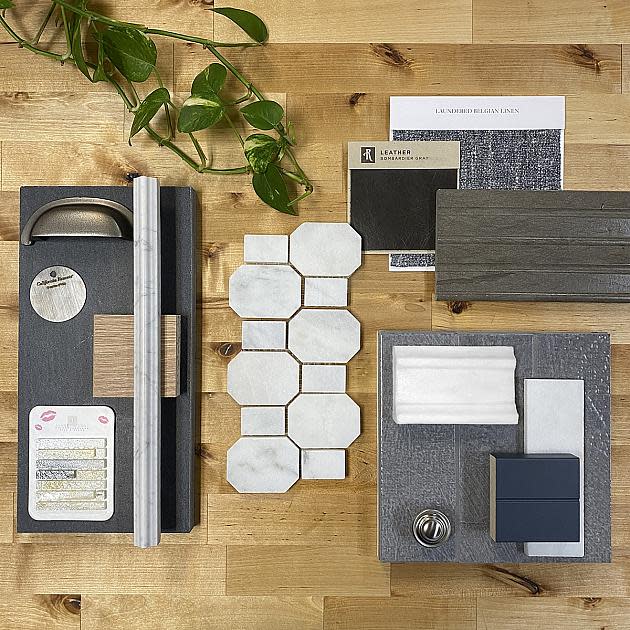 Details of a Simple Craftsman
By AlysEdwards | 5/11/2021
Clean simple lines and timeless charm are the key to designing your dream Craftsman inspired space. Built in elements like bookcases are a signature of the Craftsman interior. In a bathroom, consider adding little appeal by tiling the back of the built in shelves. Here we selected the Rock Glamorous Animate 2" x 6" to complement the same marble selected in the tone on tone octagon for the bathroom floor. A stained glass window is a great way to show old school artistry. To add a centuries old flair with a modern twist, try incorporating a stained glass mosaic like Gigi's Groovy Stix as a kitchen backsplash or a shower wall feature. The beauty of the Craftsman style is that it showcases the craftsmanship of artists through the simplicity of natural materials. Straight lined wide trims such as wood molding showcase the workmanship and are often used throughout this style. You can also achieve this by layering natural stone moldings like the the Anamite cornice, which can be used as a base or crown. The beautiful rippled texture of Abitare La Terra's wall tile makes it a great selection for shower walls or a kitchen backsplash, and provides texture to your space. A fireplace is a living rooms' central feature in a Craftsman style home. Create visual interest by using a carved stone like the Suave Due Canapa on the face of the fireplace. The subtle detail of the linear lines are beautiful on their own or incased in a wood surrounding. Round out your design by adding some greenery to enhance the earth tones. The Craftsman style stands the test of time, simple and timeless, yet full of endless detail.
read article
---